VINO VIDI VICI
Wine Bar
Canarian and Spanish wines
Los Cristianos, Tenerife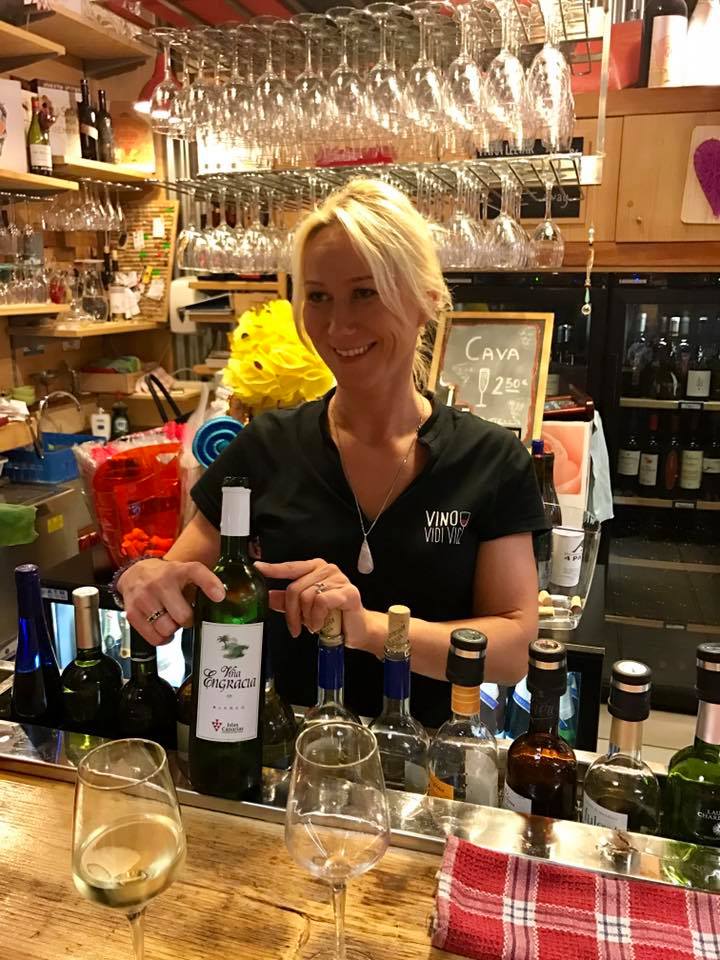 "Veni, vidi, vici" /Julius Caesar/
 Veni, vidi, vici  – [I came; I saw; I conquered] is a Latin phrase popularly attributed to Julius Caesar who used the phrase in a letter to the Roman Senate around 47 BC after he had achieved a quick victory in his short war against Pharnaces II of Pontus at the Battle of Zela. The phrase is used to refer to a swift, conclusive victory.
Hello! My name is Merike and I am an Estonian woman who came to Tenerife almost eight years ago and fell in love with this island… and it's delicious volcanic wines. In 2016 I started this wine bar, calling it bravely after Caesar's phrase with a modification for the word VINO (that means wine in Spanish).
At the beginning, VINO VIDI VICI was a small barbox, full of wines, in a hippie-like Foodmarket La Pepa. After renovations in 2019, La Pepa is brighter, more spacious and elegant and our wine bar within it grew twice as big. Now we are proud of our large wine display window and even greater choice of wines. 
Another pride of ours is Sara, our sommelier, who has been working in this wine bar since its very beginning in 2014. She is the one who remembers every customer's favorite wine, who makes sure that the glasses of the customers around the counter are filled with wine.
In VINO VIDI VICI, we love to make people happy and win their hearts. We try to find best wines on the market with reasonable prices to satisfy every client. As the wine bar is situated in the heart of La Pepa Foodmarket, our customers can enjoy a wide choice range of different national cuisines offered in the market. 
Beautiful rooftop terrace with amazing views to the town Los Cristianos makes spending time with friends or families an enjoyable experience.
Wine by glass or by bottle
All wines are sold by bottle, but every day we open more than 15 bottles of wine, which you can also buy by glass.
Taste before you buy
You don't know what kind of wine you would like today? We offer wines for tasting before you choose, so that you can make sure you like the glass of wine you're about to buy.
Take away or enjoy our rooftop terrace
You can enjoy wine in La Pepa Foodmarket inside or on the rooftop terrace, but we gladly also pack wine bottles for you to take away – wherever you'd like to take them.
Recommendations and explanation
You are not familiar with Spanish or Canarian wine world? We can recommend you wines depending on your taste. We are always happy to talk with our customers about the wines, vineyards, grape varieties and winemaking.
Degustation events
From time to time, we organize degustation events, but you can also order an event for your friends, just make sure to contact us in advance.
Surrounded by food stalls serving food of different nationalities
Our wine bar is located in the heart of La Pepa Foodmarket where you can find more than 10 food stalls serving large variety of snacks and food from different nation cuisines. You'll definitely find something for any taste.
CONTACT US
Wine Bar VINO VIDI VICI
La Pepa Food Market
Avenida San Francisco 6
Centro Comercial Pasarela, 3rd floor
Los Cristianos, 38650
Santa Cruz de Tenerife
Spain
Phone: (+34) 634 094 621
Email: info@vinovidivici.eu
OPENING HOURS
Monday: We are closed
Tuesday: We are closed
Wednesday: 17:00 – 23:00
Thursday: 17:00 – 23:00
Friday: 17:00 – 23:00
Saturday: 13:00 – 23:00
Sunday: 13:00 – 23:00
ABOUT US
We are a cozy wine bar in the heart of La Pepa Foodmarket, offering a wide selection of Spanish and especially Canarian wines with reasonable prices. Our desire is to offer something for every taste and wallet.